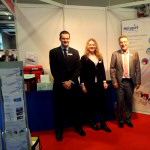 Attending the annual British Blood Transfusion Society (BBTS) conference in Harrogate, Helapet had the opportunity to present and promote our new range of
BloodPorter® cold-chain carrying systems
.
Attended by Chris Steng, Robert Collins and our new Cold-Chain specialist Agata Duliniec, the Blood Porter® range proved to greatly support the external/internal transportation of red blood cells and platelets between hospitals, blood-banks and storage sites.
Generating significant interest from the array of specialists and companies involved in blood transfusion, logistics and storage, our new
Timestrip MinusTM +2°C cold-chain indicator
also proved a big hit. Offering users the opportunity to audit their cold chain processes with an easy-to-use, disposable device, the Timestrip Minus
TM
accurately highlights temperature breaches below +2°C during transit operations.
To learn more about the Helapet Porter and Timestrip
TM
ranges, please send us an enquiry via our website, or contact us free on
0800 0328 428